Why Salmon Collagen is Best Among Rheumatoid Arthritis Supplements?
Posted by AMIT SUTHAR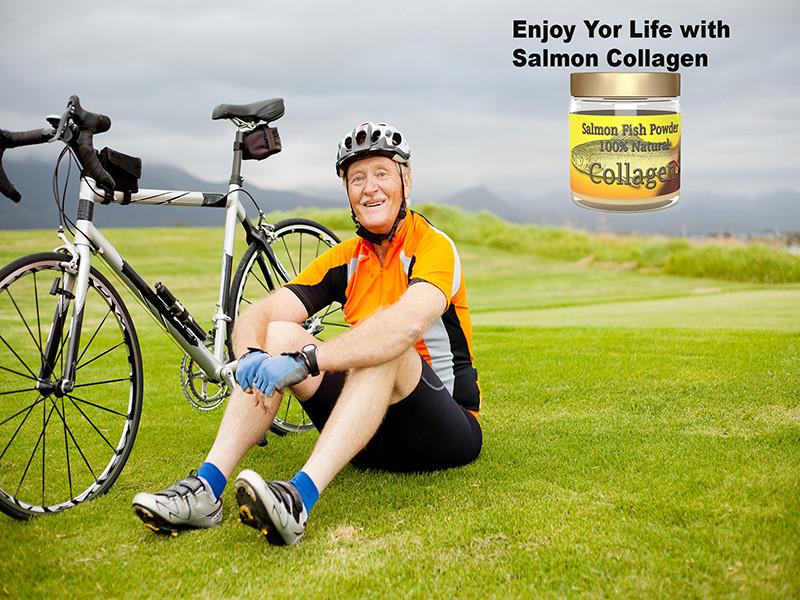 As people begin to age, the immune system degenerates and as a result they become prone to many diseases. Rheumatoid Arthritis is one such disease which commonly affects the adults and it worsens as they become older. This chronic disease causes major stiffness, pain, swelling and dysfunction of joints. It is widely known to affect the feet, hands, wrists, elbows, ankles and knees among others. The disease is most likely to affect the smaller joints in the patient's body like fingers and feet before it spreads to other larger joints.
People suffering from Rheumatoid Arthritis can also suffer from rashes, psoriasis, diarrhea, inflammation of the iris and dryness of the eyes as the inflammation of the joints can affect the eyes, skin, heart and urinary passage. If you are having symptoms of Rheumatoid Arthritis and want to go for rheumatoid arthritis supplements, there is natural cure available for you in the form of Salmon Collagen.
What are the causes of Rheumatoid Arthritis?
Rheumatoid Arthritis is an immune disorder which causes the immune system in the human body to attack its own tissues. There are various factors that contribute to the disease including genetic factors, environmental factors, personal factors, age and family history. Sometimes genes play a role in developing rheumatoid arthritis while in other cases it is caused by bacteria and viruses, air pollution, exposure to smoke and insecticides.
Both gender men and women are at a risk of developing rheumatoid arthritis but studies found out that the disease is most common among women. It is most likely due to hormonal factors involved in developing rheumatoid arthritis. The disease can attack a person at any age but most commonly it is seen in people between ages 40 to 60. Researchers also say that people who have a family history of the disease are more prone to developing one.
Why should you take collagen supplements to fight Rheumatoid Arthritis?
Collagen is synonymous to motion. It is present in all joints of human body and provides support for all kinds of activity. In the absence of collagen, the bones will make a grinding movement against each other causing joint pain, stiffness and in the long run leading to rheumatoid arthritis. Collagen can be re-built in the body if it is provided with collagen through diet regularly. Collagen supplement can strengthen the immune system and help you to fight rheumatoid arthritis that degenerate the tissues. Among many rheumatoid arthritis supplements available today, people prefer to go for Salmon Collagen.
Why is Salmon Collagen best among Rheumatoid Arthritis Supplements?
Many rheumatoid arthritis supplements are available in the market today but Salmon Collagen stands out from others as it is 100% free of any chemical. Made out of the skin of Salmon fish, Salmon Collagen supplement is a highly ecological resource. Since it is not derived from animal skins unlike other rheumatoid arthritis supplements, human body absorbs the supplement better making it totally safe for consumption.
Salmon Collagen provides an array of benefits for the body one of the main benefit being the cure for rheumatoid arthritis disease. Patients looking for natural rheumatoid arthritis supplements therefore choose Salmon Collagen to go as supplement along with their diet. The preservatives in them allow the supplement to stay bioactive that provides the needed anti-aging effect. The manufacturers of Salmon Collagen are also certified and they maintain purity.  
Benefits of Salmon Collagen Supplement
There are numerous benefits of consuming Salmon Collagen Supplement.
It is a perfect cure for rheumatoid arthritis
The collagen supplement included in the Salmon Collagen is known to effectively cure the disease of rheumatic arthritis, a disease that degenerate the body's tissues. In fact it is the best among rheumatoid arthritis supplements.
It is a remedy for joint and muscle pain
Salmon Collagen Supplement is for you if you tend to regularly face the problem of joint and muscle pain. Include it in your daily diet to see best results within a short time frame.
It rejuvenates your health
As you age, the body begins to lack immunity and as a result, the body cannot fight against diseases. Consuming Collagen supplementary will boost your immune system and rejuvenate your total health.
It increases your body's mobility
If you are facing fatigue or soreness in your body, it probably is due to lack of collagen in your body. Try Salmon Collagen to increase your body's mobility and lead a stress free life.
Salmon Collagen is regarded as the best supplement among rheumatoid arthritis supplements available in the market today. However, it is to be noted that the supplement cannot be taken as an alternative to doctor's prescription. You can add it to your daily diet and start availing the multiple benefits starting today. Collection 2019 Sale 70% Off Title for image