Why Choose Salmon Collagen Fish Powder among Rheumatoid Arthritis Supplements to Treat Arthritis?
Posted by AMIT SUTHAR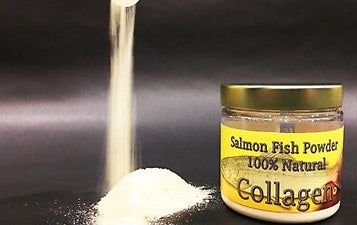 Rheumatoid arthritis is a condition that affects the joints. It is typically characterized by pain, stiffness, aching, and swelling in and around the affected areas. It has been found out that certain rheumatic conditions can involve the immune system and several internal organs of the body. Rheumatoid arthritis can affect numerous organs and cause diverse symptoms.
As you grow old, the natural aging process can contribute to developing rheumatoid arthritis. The disease is more commonly seen among adults aged 65 years and above, but the disease is not immune to others including children. In order to treat rheumatoid arthritis, there is an essential supplement namely, Salmon Collagen Fish Powder available on the market. The supplement is considered best among rheumatoid arthritis supplements owing to its high percentage of pure marine collagen content.
How Can You Identify Rheumatoid Arthritis?
In order to treat a condition, you need to understand the causes and symptoms. Rheumatoid arthritis is caused by continuous inflammation in the synovial which leads to degeneration of cartilage and bone. The degeneration can lead to deformity of joints, pain, swelling and redness.
Suffering from rheumatoid arthritis can lead to premature mortality, disability and decrease the quality of life of the patient and people around him. In the early stages, rheumatoid arthritis can occur at any stage and symptoms of fatigue and continuous stiffness after rest can be seen. If you can diagnose the condition early, you can learn how to treat the symptoms better and increase the quality of life. One of the most effective rheumatoid arthritis symptoms available today on the market is Salmon Collagen Fish powder.  
Why Salmon Collagen Fish Powder Works?
If you look at the rheumatoid arthritis supplements sold in the market, many of them contain glucosamine and chondroitin sulfate. They are considered safe and they curb pain and protect cartilage from deteriorating but they might pose risk for those patients with asthma, diabetes, or blood clotting disorders. Some take the aid of SAM-e for treating arthritis but it causes a number of side effects including upset stomach and diarrhea. It is also risky to take the supplement when consuming antidepressants.
As you can make out most of the rheumatoid arthritis supplements does not offer natural treatment and is not recommended for prolonged use. However, unlike the regular rheumatoid arthritis supplements, Salmon Collagen Fish Powder is 100% natural supplement which does not cause any side effects. The powder is highly bioactive and contains collagen from salmon fish that can not only cure arthritis but provide many other health benefits.     
Benefits of Salmon Collagen Fish Powder
It is an effective rheumatoid arthritis cure
The high percentage of pure marine collagen makes Salmon Collagen Fish Powder the most effective supplement among rheumatoid arthritis supplements.
The supplement can boost the natural production of collagen in tissues which is responsible for smooth functioning of joints. When collagen, the elastic fiber which keeps the tissues elastic is enhanced, it improves activity and performance rate.
The highly potent collagen supplement can boost the cartilage building network. Since it increases cartilage which acts as the cushion between bones and protects the bones from grinding against each other, it increases joint's efficiency.
Rheumatoid arthritis can cause the affected areas of your joints to swell. Include the anti-inflammatory fish collagen in your daily diet to eliminate the problem. 
It increases heart's functionality
The aging process and arthritis can pose the risk of developing heart failures. Supplement your body with salmon Collagen Fish Powder to reduce the risk.
It boosts metabolism process
Patients with metabolic disorders can take the aid of the collagen powder to boost the process of metabolism.
Since the supplement supplies only essential vitamins, proteins, and fats, it can help you in maintaining a balanced weight. 
There are countless rheumatoid arthritis supplements available on the market today but you will not find a supplement as effective as Salmon Collagen Fish Powder. There is no age limit to consume the powder and no stories of side effects caused by the supplement have been found till date. Collection 2019 Sale 70% Off Title for image