Salmon Collagen- Treatment for Rheumatoid Arthritis
Posted by AMIT SUTHAR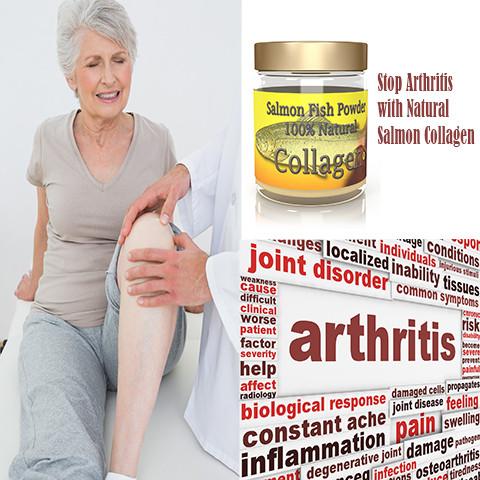 What is Collagen?
It is the basic component of the connective tissue. It is in a form of glue which binds all the body parts together and is found abundantly in our body. It is related to skin and elasticity but then it can help in the rheumatoid arthritis treatment and joint pain. Though it is found in most of the parts of our body, it slowly starts reducing with age. Fine lines, wrinkles, saggy skin are all signs of collagen deficit. People over the age of 25 have more chances of collagen deficit than those of younger age.
A well-maintained level of collagen can make your skin look younger and elastic. Many people are not aware that collagen deficit can cause severe joint pain, rheumatoid arthritis, ligament pain etc. As collagen is present in our joints and connective tissue, it helps the ligaments to withhold the tension that joints create. But with age movement of joints deteriorate due to the diminishing collagen level. To overcome the deficit of collagen, experts have come up with natural supplement named Salmon Collagen.
Reason to Treat Rheumatoid Arthritis with Collagen
As have already been said there is a clear relationship between joint pain and collagen. Collagen is a very useful component of our body which is needed for the proper functioning of our muscles and nervous system. However, when the level starts declining with age it needs to be complemented with some collagen supplements.
Salmon collagen is found to be most effective for rheumatoid arthritis treatment. Rheumatoid arthritis occurs due to stress which triggers the autoimmune system resulting in swelling, inflammation of joints etc. It may also cause fatigue, weakness, weight loss, anorexia and low-grade fever.  It causes a lot of pain and discomfort to a person. Rheumatoid arthritis can be caused also because of some auto immune diseases like psoriasis, eczema etc. To treat such health issues collagen is a great way to provide essential nutrients to the body. Salmon Collagen supplements are safe to consume as it is 100% natural and contains no chemical components.
Joint pain and rheumatoid arthritis can cause a problem in daily life activities as joints stiffen and there is relatively less movement. A person suffering from these problems has a dull life with hardly any activities to do. However, the movement can be restored by taking regular collagen supplements for 4 months a year.
Salmon Collagen – Effective for Collagen Deficit
Salmon collagen is the best supplement available for rheumatoid arthritis treatment. One of the best benefits of having Salmon Collagen is that it helps you to get toned muscles and also provides you with essential nutrients. It keeps your tissues in shape making them elastic and firm. It even provides you strength to carry on your day with full energy.
Salmon Collagen is extracted from salmon fish which has surplus collagen molecules in them. These collagen molecules are small and can be easily absorbed by the body making it more effective. It works best when taken along with breakfast, as during breakfast the proteins are digested better.
 Consumption of Salmon Collagen on a regular basis will leave a noticeable effect on your body. It is considered a great and effective measure to treat joint pain. The supplement is enriched with marine collagen which is the best source of high-quality collagen. It does not have any side effects as it is totally natural with zero chemical components.
Salmon Collagen is known not only for treating rheumatoid arthritis but also for preventing an expansion of the same. The disease of arthritis can spread from right hand to left hand and vice versa. It can affect wrist, knees, hands, shoulder etc. Not only collagen supplement complement the deficit of collagen in our body but also stimulates the natural production of it.
Collagen is found naturally in our body but with age, it decreases so with collagen supplements it can be reproduced leading to a healthy and firm skin. Salmon Collagen tackles joint pain and defeats arthritis by managing collagen level in our body. The collagen powder helps arrest the damage tissues and repair them. It minimizes the damage and regenerates new tissues. Lead an active life by using Salmon Collagen supplement for a healthy and fit body. Collection 2019 Sale 70% Off Title for image