Salmon Collagen Fish Powder: Best Natural Remedies For Joint Pain
Posted by AMIT SUTHAR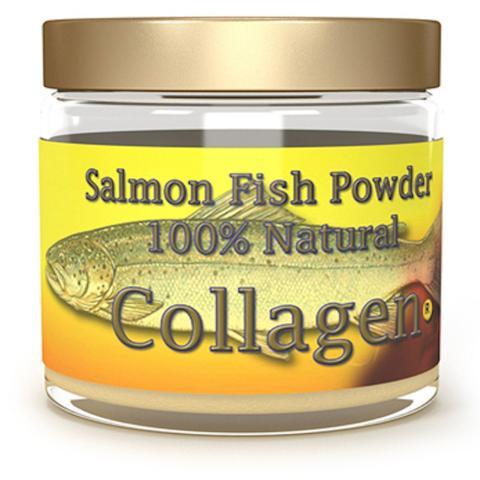 Pain in joints may feel like they are initiating from the bones, but the problem most likely lies in the surrounding soft tissues and joints. Many reasons can cause you to have joint pain including poor posture, injuries, fractures, repetitive movements, and arthritis among others. If you feel like performing a task as simple as carrying groceries or reaching out to an object kept a little high up on the shelf daunting, there is a fat chance that your joints or soft tissues are in pain.
People who are suffering from pain in joints visit a physiotherapist, take exercises, take medical pills and also seek natural remedies and supplements. Visiting a physiotherapist daily can be expensive in the long run and taking painkillers can have side-effects. However, you can opt for a natural cure along with Salmon Collagen Fish Powder supplement to aid in speeding up your healing process. Salmon Fish Powder is among the best natural remedies for joint pain available in the market today.
Why is Salmon Collagen Supplement Among The Best Natural Remedies For Joint Pain?
The fish powder has numerous benefits. To start with, the collagen present in the powder is extracted out of salmon fish skin and not animal skin, unlike other products. The bioactive amino acid combined with collagen work to build the cartilage and natural collagen in your body which are responsible for making your bodily functions and movements efficient. It helps in making your bones stronger, regenerates soft tissues and cures pain. Again, the supplement is 100% chemical-free and there are no added preservatives as such. Since the product does not give any side-effects, it is safe to consume it along with your daily diet, making it the best natural remedies for joint pain.   
What Are The Likely Causes Of Pain In Joints?
As the body ages, the soft tissues and bones degenerate. It happens as the collagen and cartilage production in the body which helps in the smooth functioning of joints considerably slow down. The deficiency of collagen and cartilage causes your bones to grind against each other leading to acute pain. The problem if not attended in time can lead a person to develop a kind of arthritis. Pain in joints is also caused by fractures and injuries in which the cartilage is damaged. Adding Salmon Fish Powder supplement into your daily diet can act as a natural cure for pain in joints in different parts of the body. There are countless products in the market that have collagen in it to increase your mobility of joints but owing to its high-quality ingredients, salmon powder is the best natural remedies for joint pain. 
What Are The Most Effective Natural Remedies For Joint Pain?
Natural remedies are recommended for treating different types of joint pain as they don't pose any threat of side-effects for the long run. The most effective natural remedies for joint pain includes taking exercise that is specifically meant for curing pain in joints. For learning how to perform exercises to relieve joint aches, you can browse credible online health blogs, watch YouTube videos on exercises, and buy books that contain exercise tips or buy DVDs.
Taking a relaxing bath with Epsom salt helps in relaxing muscles and joints. Turmeric and Ginger paste is also known to relieve joint pain. However, the most effective among all natural remedies for joint pain is adding bioactive Salmon Fish Powder into your daily diet. It will naturally speed up the healing process.    
Features of Salmon Collagen Fish Supplement
Below are shown the main features of Salmon Collagen Fish Supplement:
It is the most effective natural remedies for joint pain
Among all the products in the market trending today, Salmon Fish powder is the most effective natural remedies for joint pain as unlike others, the ingredients are derived from fish skin. It is healthy and cures pain naturally.
It boosts natural collagen
Collagen present in tissues, which is an elastic protein degenerates as you age. It results in restricting the rate of your bodily movements. Consuming the powder aids in supplementing natural collagen.
Accidents and fractures can damage your cartilage production increasing the risk of arthritis. The best among natural remedies for joint pain can boost the cartilage production rate and speed up the healing process.
Don't wait for long when you can choose to lead a pain-free life with Salmon Collagen Fish Supplement. Collection 2019 Sale 70% Off Title for image