Everything That You Need to Know About Joint Pain and How to Reduce It
Posted by AMIT SUTHAR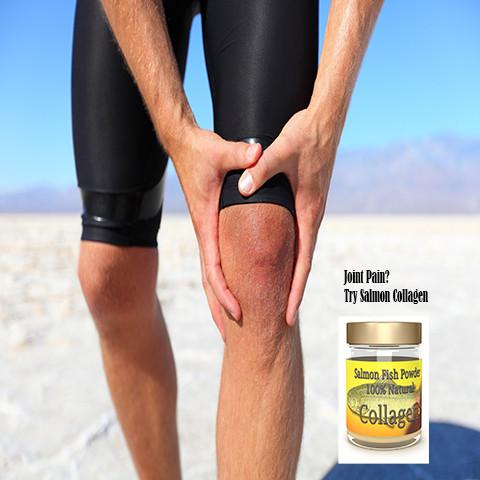 According to a research conducted in 2002, approximately around 11 million people in the United States of America only said that they have suffered from a joint pain. The number of people with this sort of difficulties is in constant increase and in 2015 it reached a record level of 15 million people and by unofficial sources, this figure is even higher.

Joint pain usually occurs due to damage, excessive physical exertion, and rheumatism. Besides the usual pain, other effects may occur such as swelled joint and in severe cases bruises. Displacement of a ligament means- tearing the ligaments and the outer casing of the joint. They're created as a result of sudden movement or movement in the wrong direction. In mild to moderate displacement, the pain will occur mainly during a movement and there may be a slight swelling of the joint.

Created by the most ecological resources available to humans (Salmon Fish Skin),  it's no wonder that Salmon Collagen currently has the purest form of collagen in the world.The non chemical a non-animal origin of these proteins are only one of the reasons why they are completely safe to consume on a long term basis.
Salmon Fish Skin Collagen Helps Everyone to Reduce Their Joint Injuries and To Increase Skin's Elasticity
 All of those people who have a lower level of collagen in their bodies are susceptible to injuries and skin burns. Only by taking a daily dose of Salmon Collagen you can quickly improve your joint's strength and skin's defense system.The production of collagen inside the body begins to decline from the mid 20's, and already in the 40's is reduced up to 30 percent. The lack of collagen makes us more vulnerable to the sun and that results in sunburns, skin inflammation and various types of injuries as said earlier.
Some researchers have found that the ideal way for increasing production of collagen inside the body is by preparing soups with cooked beef bones.They contain a substance called glucosamine, which stimulates the production of collagen and helps the organism to strengthen its joints. However, this is not enough on the long run. The best way for feeding up the joints and bones with collagen is by constant consumption of powdered collagen for a minimum period of 4 months.  This process can easily reduce joint pain and strengthen all areas of the body.
Special Collagen for Better Mobility Which Acts as Joint's Painkiller
The powdered protein is intended for sufferers of rheumatoid arthritis and other types of inflammation of the joints and those suffering from chronic nonspecific joint and muscle pain.
It allows the everyday person to perform daily tasks his task with greater ease and also, to engage in more demanding physical activities such as running, swimming, skiing and other. It is said by many pharmacists that it is not wise to blame certain activity like running for joint pain. They said that it all comes to Osteoarthritis, which Is maybe the most frequent reason for experiencing pain in joints and bones. It is almost certain for every human being on this planet that at a certain point of life will suffer from an Osteoarthritis regardless of any other
Salmon Collagen is not only suitable for reducing pain in the joints that are causing difficulties in daily functioning. It is quite enriched with several other very useful strengths which are primarily necessary for this dynamic time we live in:
It can be very helpful in assisting recovery from sports injuries
It can help in the recovery process of a broken nose (cartilage)
It can help а person to reduce itsobesity
Improve bone structure
It can eliminate or reduce hyperpigmentation that is caused by sunburns, skin inflammation and many other factors Collection 2019 Sale 70% Off Title for image