Salcoll Collagen Hand Cream: Number 1. No Crack Super Hand Cream
Posted by NIDHI GUPTA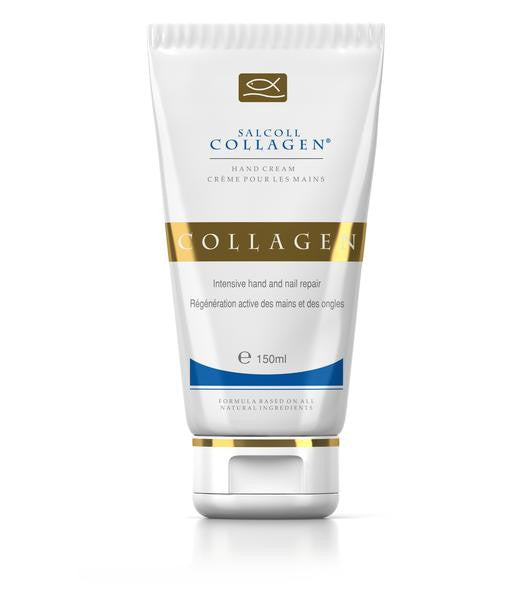 Hands are the most active and exposed parts of your body and owing to that, it is more prone to develop cracks, dryness, irritation, itching and broken skin than other parts. Your hands come in contact with chemicals from detergents, soaps, and skin care products every day. It is also exposed to ultraviolet rays from sunlight and other harsh environmental conditions. No wonder it is vulnerable and needs proper care.
A high-quality skin care product, namely, Salcon Collagen Hand Cream has been developed just for that purpose. The no crack super hand cream is unlike any other product you will see in the market as it is made out of collagen extracted purely out of salmon fish skin. The high potency collagen combined with the amino acid in the cream works to regenerate your skin elasticity by renewing your tissues from the inside.
The no crack super hand cream stands out as it is bioactive and 100% chemical-free. It has no fragrance and leaves no greasy residue behind after application.
What are The Main Causes of Crack Hands?
Dry and cracked hands are caused by a variety of reasons and it can cause pain if not treated in time. People who do household chores regularly, those working in work conditions that need manual labor, cleaning products, metals, and nickel, exposure to ultraviolet rays from sunlight, using very hot water, pollutants, coming in contact with chemicals, and contact with allergens can cause your skin to dry out, swell, and crack among others.
When hands become severely dry and cracked, it may lead to the development of itching and pain sensation. The hands need adequate moisture to keep the skin hydrated and soft. All the market products don't work as they contain chemicals and added preservatives.  However, Salcoll Collagen is not like the ordinary product sold in the market. It is the miracle cure all have been waiting for.
Who can Use Salcoll Collagen No Crack Super Hand Cream?
The no crack super hand cream that contains hypoallergenic formula is for everyone. The all-natural formula of this anti-aging product is meant for all skin types and it is multi-purposed. The collagen in the cream nourishes the skin from inside removing cracks and keeps it hydrated all day long. Since the cream is of the highest quality, it leaves no greasy residue after application, unlike other regular hand creams.
 Not only the natural aging process but different other factors like the skin on your hands coming in contact with chemicals, exposure to sunlight, and dehydration among others can cause cracks. The no crack super hand cream is designed perfectly for healing cracks, wounds, and broken skin. It actively regenerates your skin thereby giving your hands a soft, supple, and crisp feel.
What are The Benefits of Salcoll Collagen Hand Cream?
The Salcoll Collagen no crack super hand cream for repairing cracks has varied benefits for users.
It is the number 1 no crack super hand cream
Salcoll Collagen hand cream is the number 1 no crack super hand cream that keeps your skin supple and smooth after a hard day's work. It also heals external wounds and broken skin apart from cracks.
It provides intensive hand and nail treatment
Your hands and nails need moisture as much as your face to save it from cracks and dryness. The cream contains natural collagen that provides intensive treatment and helps in the regeneration of skin and restores it to its natural state.
The product has hypoallergenic property and soothes irritation itching and burning sensations. The cream does not accumulate dust as it is non-greasy. The formula is for everyday use, anywhere.
The no crack super hand cream along with its smoothening effect also helps in improving the skin's texture that has become uneven due to coming in contact with harsh chemicals and sunlight.
It cures flare-up and inflammation
When your skin comes in contact with certain allergens and chemicals, it may give rise to the development of flare-up and inflammation. The hypoallergenic product can remove this problem and provide a soothing effect.
Why go for another skin product that hardly works when the best is here for you? Collection 2019 Sale 70% Off Title for image