Salcoll Collagen Eye And Lips Serum
Posted by NIDHI GUPTA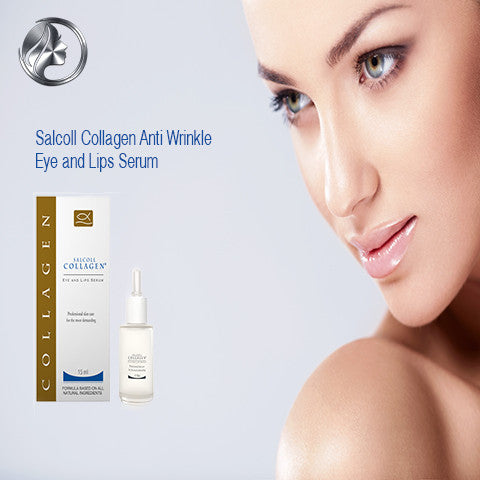 The Salcoll Collagen Eye and Lips Serum is a very effective anti-wrinkle serum that works excellently in improving the looks of your lips and eyes. It is a 100% natural formulation that contains marine collagen which has a very bioactive form of collagen. Marine collagen has been shown to be more effective than the animal form of collagen used in many other anti-wrinkle serum gels and creams. It is because of this natural collagen as well as other ingredients that make this anti-wrinkle serum very efficient at repairing all kinds of age spots and defects around the eyes and lips.  Regular use allows women to look beautiful and youthful once again. The major advantage of this product is that it can be used on all kinds of skin because it does not produce any allergies. Also, in contrast to other eye and face creams which leaves a sticky feeling on your face, this anti-wrinkle serum makes your face feel light after application. It does not have any additional artificial chemicals or scents that will make your face smell awkwardly. Thus while it is true that we cannot prevent the aging process, at least you can attempt to reduce the wrinkle and age spots on your eyes and face by using this excellent eyes and lips serum. All you need to do is apply moderate amounts around your eyes and lips and see the results you will get in a matter of days and weeks.  


Why You Should Choose The Salcoll Collagen Eye And Lips Serum
There are several anti-wrinkle serum products in the market, but majority of them do not work. This is one product that has been proven to work and you can confirm this by looking at the hundreds of review on Amazon. According to several reviews, the only disadvantage with this product is that it does not have a negative review! The anti-wrinkle serum owes its effectiveness to the natural collagen contents as well as the non-addition of artificial substances.

The Salcoll Collagen Eye and Lips Serum are made with natural ingredients only such as the very efficient Type I Marine Collagen which has been acclaimed globally as an effective skin rejuvenation solution. The marine collagen content repairs, rejuvenates and rebuilds all the aging spots that are appearing around your eyes and lips. Thus even at seventy, people will still be asking you the secret to your good looks and youthful face. You will not be afraid to flaunt what you've got. Another benefit of the collagen is that is helps to smooth out all the wrinkles, dark circles, eye bags and other age signs around the eyes and lips. With this anti-wrinkle serum, those drooping eyelids will disappear in no time and you can go back to your beautiful self.

Also, apart from containing collagen, the Salcoll Collagen Eye and Lips Serum also enhance your body's ability to produce its own collagen. Therefore, while the collagen in the serum will help to provide a short term solution to the wrinkles on your lips and the drooping on your eye, the improved production of collagen by your body offers a long term solution to the problem. Thus even when you stop using the serum, you eyes and lips will remain ageless. 

It also contains a complex preparation of amino acids that functions to enhance the production of collagen. This means that the collagen provided both by the serum and by your body will add up to produce an excellent result for your lips and eye. These amino acids also help to tighten and provide moisture for your skin. Collection 2019 Sale 70% Off Title for image